Regular price
$16.99 USD
Sale price
$11.99 USD
Unit price
per
Sale
Sold out
How will I get my digital ebooks and audiobooks?

Digital products will be fulfilled by BookFunnel immediately upon purchase. Books can be read or listened to on any of your favorite devices. BookFunnel support is available to ensure you can access your product.
If a signed book is available to purchase, can I get it personalized?

Yes! Once you put the signed print book in your cart, fill out the text box on that page with your name and choice of personalization.
When will I receive print books?

Please allow 1-2 weeks for delivery of both signed and unsigned print books.
Can I purchase this product from another retailer?
View full details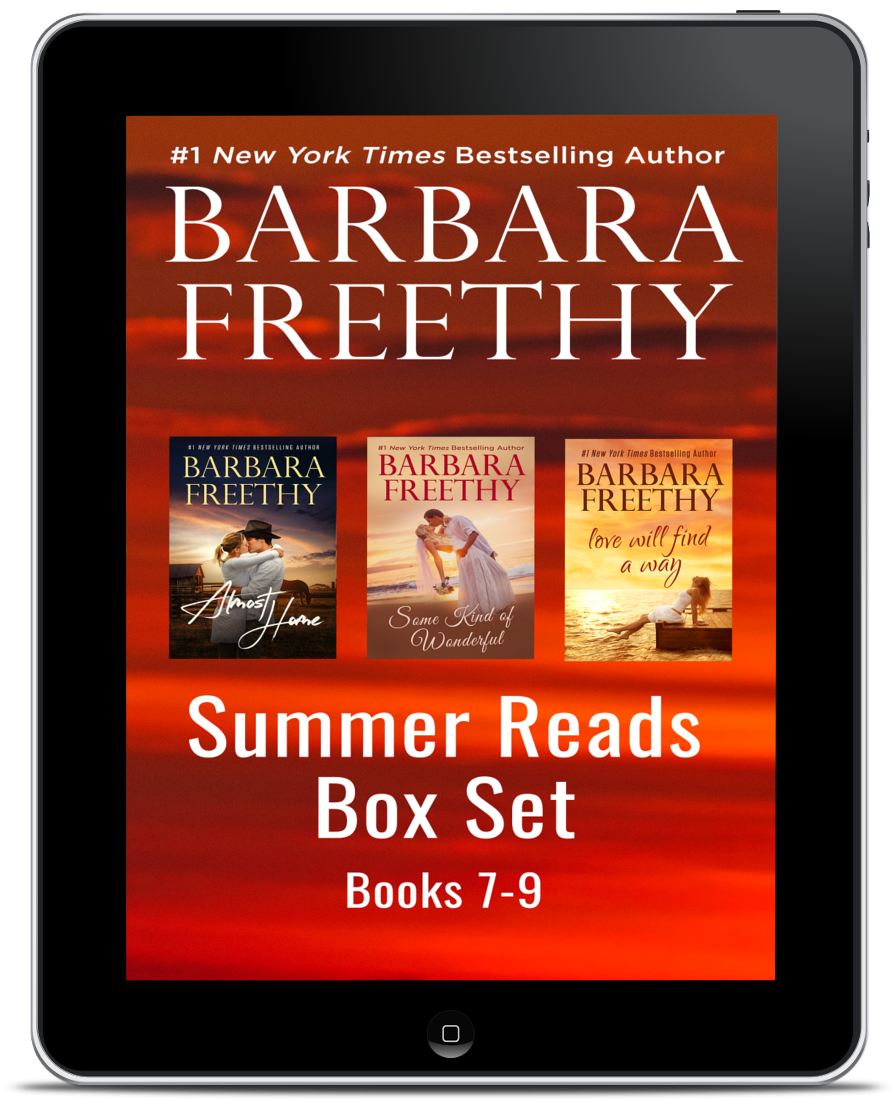 Description
Excerpt
Series Info
Three New York Times Bestselling standalone novels in one special ebook bundle: Almost Home, Some Kind of Wonderful, and Love Will Find A Way!
Almost Home

Katherine Whitfield hadn't left her seamless life in California to get mixed up with a rough-around-the-edges man like Zach Tyler. With his well-worn jeans and slow, seductive smile, he was nothing but a cowboy on the wrong side of the Mississippi, a distraction in her quest to discover the father she never knew.

Zach has a gentle hand with horses and a seductive touch with women. When he takes Katherine in his arms, he unleashes the passion simmering just below her cool exterior. Yes, her probing questions and tantalizing ways could cause nothing but trouble, but sometimes a man needs a little trouble...
"Beautifully written, exceptional characters, and a charming storyline." Kim - Goodreads.

Some Kind Of Wonderful
"ABANDONED BABY FOUND"
It's the kind of story investigative reporter Matt Winters writes about—not the kind he wants to be living. When he discovers a newborn baby girl on his doorstep, he panics. Then he desperately turns to his temptingly pretty neighbor Caitlyn Devereaux for help.

Caitlyn's aching vulnerability as she holds the precious bundle piques his curiosity. The wedding gowns she creates are famous for fulfilling every bride's fantasies, yet she firmly says that marriage—and motherhood—are not for her.
As they search for the baby's mother, family secrets strip away the masks they've been wearing. With everything on the line, will they find the courage to stop playing it safe and go for something wonderful?

"An emotional roller-coaster, Some Kind of Wonderful is also tender and charming." — Heartstrings Reviews
Love Will Find A Way
Rachel fell in love at nineteen with a man who came into her life on a whirlwind of sunlight and romance. She married Gary Tanner, had his son, and thought she would live happily ever after. But fate had other plans. Gary died in a tragic accident … at least she thought it was an accident. Now, there are questions that need to be answered, and only one man she can turn to, Gary's best friend, Dylan.

Rachel was everything Dylan Prescott wanted in a woman. But Gary met her first, so she became untouchable. For years he stayed away from her. Now Rachel is a widow, her marriage is over, and she turns to him for help. The passion he feels for her is no longer out of his reach. The life he always wanted is beckoning to him, but when the secrets come out, will their love find a way to survive?

"Freethy has once again penned an exceptional piece of fiction." - Library Journal