Regular price
$16.99 USD
Sale price
$11.99 USD
Unit price
per
Sale
Sold out
How will I get my digital ebooks and audiobooks?

Digital products will be fulfilled by BookFunnel immediately upon purchase. Books can be read or listened to on any of your favorite devices. BookFunnel support is available to ensure you can access your product.
If a signed book is available to purchase, can I get it personalized?

Yes! Once you put the signed print book in your cart, fill out the text box on that page with your name and choice of personalization.
When will I receive print books?

Please allow 1-2 weeks for delivery of both signed and unsigned print books.
Can I purchase this product from another retailer?
View full details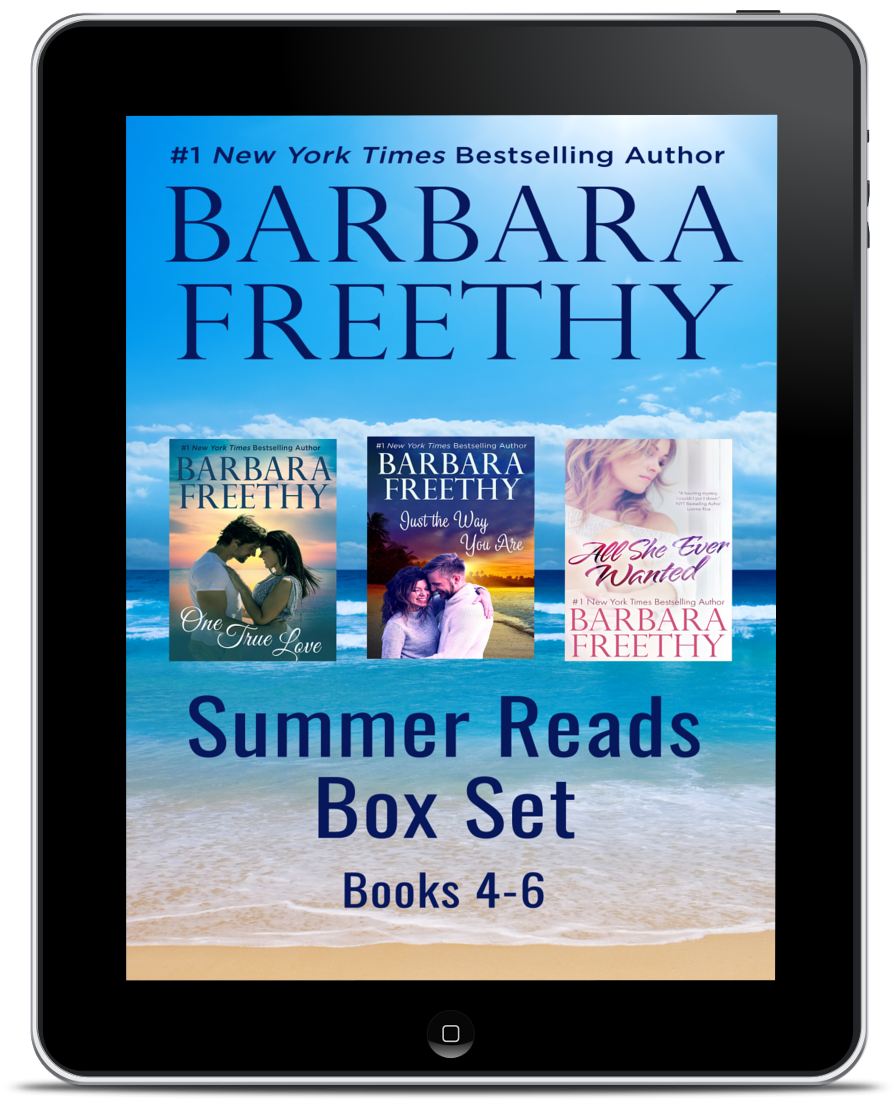 Description
Excerpt
Series Info
If you love second chance at love stories, you will love this special ebook collection of three standalone NYT bestselling novels. Each book has its own richly developed, complicated, romantic, and heartwarming, sometimes heartbreaking story!
ONE TRUE LOVE
The last place Lisa Alvarez expected to find herself was babysitting for her ex-sister-in-law's three rambunctious kids. But when Maggie called her up and begged for time alone, something in Lisa made her say yes. Lisa never expected her handsome ex-husband Nick to show up on the doorstep, walking back into her life, and taking over more than the weekend....

Nick can't believe how Lisa has changed over the years - and how she's stayed the same. His heart still races when her eyes catch his, his pulse pounds when she's near. After tragedy pushed them apart, Nick spent eight years rebuilding his life and his soul. Can he risk losing his heart again, for a second chance at true love?
"A pair of wary, emotionally fragile protagonists, a cast of exceptional secondary characters ... and a multilayered plot that deftly interweaves humor, passion, and a tragedy result in a poignant, heartwrenching, yet heartwarming story that is laced with love." Library Journal
JUST THE WAY YOU ARE
Take a romantic journey to Tucker's Landing, Oregon, where Sam and Alli Tucker have made a life together, a life about to be tested by the return of the only woman who can break them up... Alli's sister, Tessa.

A baby brought them together—and even though Alli has always loved her strong, sexy husband Sam and the life they've built together, she has decided to set him free to follow his youthful dreams. It is no longer enough for her to be wife and lover when she knows she holds so little of his heart.

Sam has always dreamed of a life away from the close-knit world of Tucker's Landing, but marriage and fatherhood ended all that. Now Sam is torn between what was and what was meant to be. He must decide if it's time to rekindle the dreams of the past or accept Alli and her love, just the way she is.

Don't miss this heart-wrenching tale of a man torn between two sisters, the one he loved, the one he married...

"I loved this book! I loved it so much I don't even know what to say. The characters were so easy to relate to–at times, uncomfortably so. I felt like I learned about myself as I read it. At times I wanted to cry and at others I was so happy but all the way through, I saw truth. This book was beautiful and perfect and I'm a fan of Freethy for life." Jamie – Goodreads Review

ALL SHE EVER WANTED
Emily was their closest friend, or so they thought—until years later, when her secrets send them on a perilous search for the truth about who she really was ... and why she died ...
Ten years ago, during a party gone out of control, beautiful, vibrant Emily plummeted to her death, leaving her three best friends and sorority sisters—Natalie, Laura and Madison—devastated. None of them has ever forgotten that night, or the role each may have played in Emily's death, the guilt that has pursued them, and the loss they still suffer.
Now an unknown writer has rocketed onto bestseller lists with a novel that eerily mirrors their own story. Who is he? How does he know the intimate details of their lives? And why is he accusing one of them of murder? As they begin to unravel the startling truth about their friend, each will rediscover a love she lost long ago and uncover secrets that will forever change her life...
"Three friends reunited to uncover a haunting mystery -- I couldn't put it down." NYT Bestselling Author Luanne Rice