Regular price
$16.99 USD
Sale price
$10.99 USD
Unit price
per
Sale
Sold out
How will I get my digital ebooks and audiobooks?

Digital products will be fulfilled by BookFunnel immediately upon purchase. Books can be read or listened to on any of your favorite devices. BookFunnel support is available to ensure you can access your product.
If a signed book is available to purchase, can I get it personalized?

Yes! Once you put the signed print book in your cart, fill out the text box on that page with your name and choice of personalization.
When will I receive print books?

Please allow 1-2 weeks for delivery of both signed and unsigned print books.
Can I purchase this product from another retailer?
View full details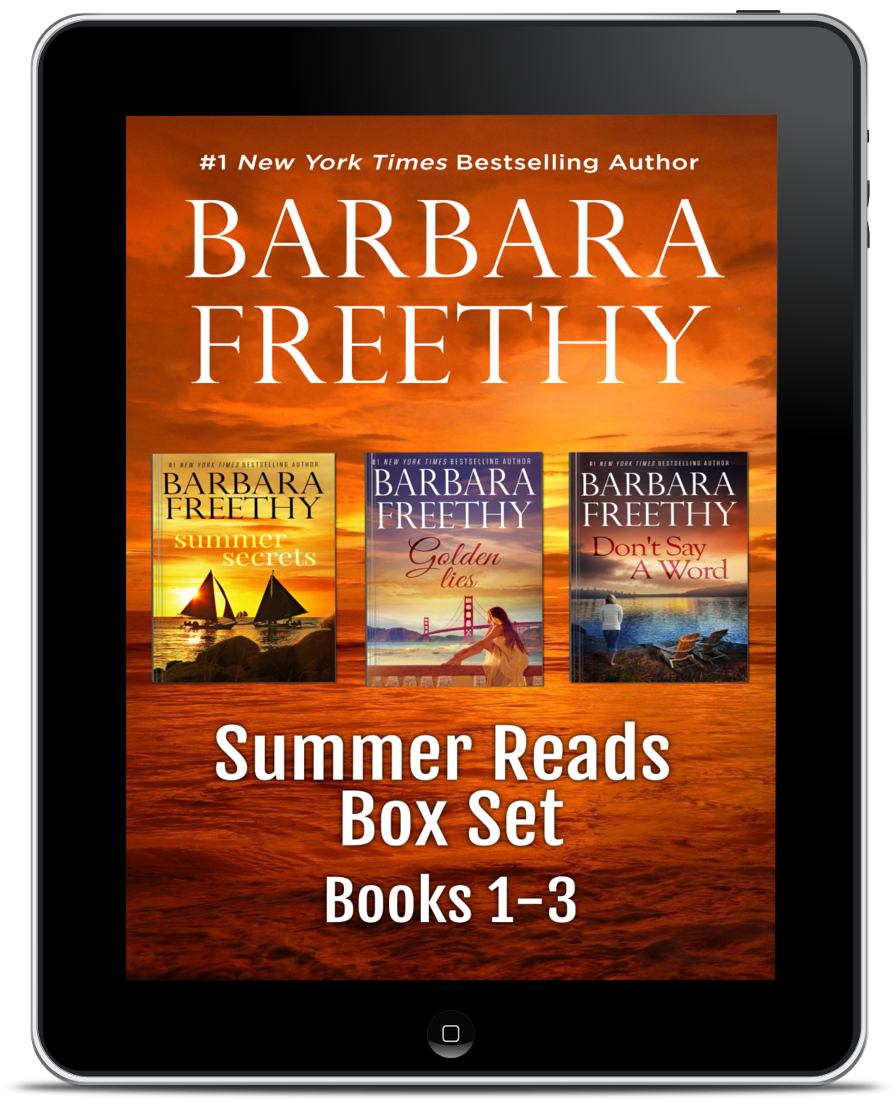 Description
Excerpt
Series Info
Three New York Times Bestselling standalone novels in one special ebook bundle: Summer Secrets, Golden Lies and Don't Say A Word!
SUMMER SECRETS
Eight years ago, the three McKenna sisters—Kate, Ashley, and Caroline—had their fifteen minutes of fame. Driven by their ambitious father, they won an around-the-world sailing race as teenagers. But something happened out on the turbulent sea during a fierce storm they could never forget ...
Now Tyler Jamison has come to Castleton, a picturesque island off the coast of Washington State, asking questions about the famous McKennas. But even as the sisters close ranks against the tenacious reporter, the past threatens to drown them in its wake. It will take Caroline's willingness to right a wrong, Ashley's struggle to face her greatest fears, and Kate's attempt to embrace life—and love—again to finally calm the winds and stop the rain.
"Graced with sympathetic, well-defined characters and an intriguing multi-threaded plot, this is an emotionally involving story ... sure to please Freethy's growing fan base, and like Kristin Hannah's novels, neatly bridges the gap between romance and traditional women's fiction." Library Journal
GOLDEN LIES
Every family has secrets—some too intriguing to resist ... some too dangerous to ignore...
A novel about three remarkable families—the fifty-year-old promise that once bound them together, the fiery betrayal that tore them apart, and the ancient bronze dragon that could destroy their future.
Riley McAllister, Paige Hathaway, and Alyssa Chen come from very different worlds. Tough guy Riley has overcome the hard knocks of a working-class upbringing. Paige struggles to define her place as the heir to a famous antiques emporium. And Alyssa feels trapped by the restrictions of her family's old world attitudes. Now this unlikely trio of strangers must come together to follow an elusive trail through the streets of San Francisco—from glittering Pacific Heights to colorful Chinatown to trendy south of Market. Each will have to make the impossible choice between romantic love and family loyalty, between sheltering lies and revealing truth. Once the door to the past is opened, there's no turning back...
"Golden Lies is an absolute treasure, a fabulous, page-turning combination of romance and intrigue. Fans of Nora Roberts and Elizabeth Lowell will love Golden Lies." New York Times Bestselling Author Kristin Hannah
DON'T SAY A WORD:
Everything she's been told about her past is a lie...
Julie De Marco is planning a perfect San Francisco wedding when she comes face-to-face with a famous photograph, the startling image of a little girl behind the iron gate of a foreign orphanage—a girl who looks exactly like her. But Julia isn't an orphan. She isn't adopted. And she's never been out of the country. She knows who she is—or does she?
Haunted by uncertainty, Julia sets off on a dangerous search for her true identity—her only clues a swan necklace and an old Russian doll, her only ally daring, sexy photographer Alex Manning. Suddenly nothing is as it seems. The people Julia loved and trusted become suspicious strangers. The relationships she believed in—with her mother, her sister, and her fiancé—are shaken by new revelations. The only person she can trust is Alex, but he has secrets of his own. Each step brings her closer to a mysterious past that began a world away—a past that still has the power to threaten her life ... and change her future forever.
"Powerful and absorbing ... Sheer hold-your-breath suspense." – NYT Bestselling Author Karen Robards