Regular price
$18.99 USD
Sale price
$11.99 USD
Unit price
per
Sale
Sold out
How will I get my digital ebooks and audiobooks?

Digital products will be fulfilled by BookFunnel immediately upon purchase. Books can be read or listened to on any of your favorite devices. BookFunnel support is available to ensure you can access your product.
If a signed book is available to purchase, can I get it personalized?

Yes! Once you put the signed print book in your cart, fill out the text box on that page with your name and choice of personalization.
When will I receive print books?

Please allow 1-2 weeks for delivery of both signed and unsigned print books.
Can I purchase this product from another retailer?
View full details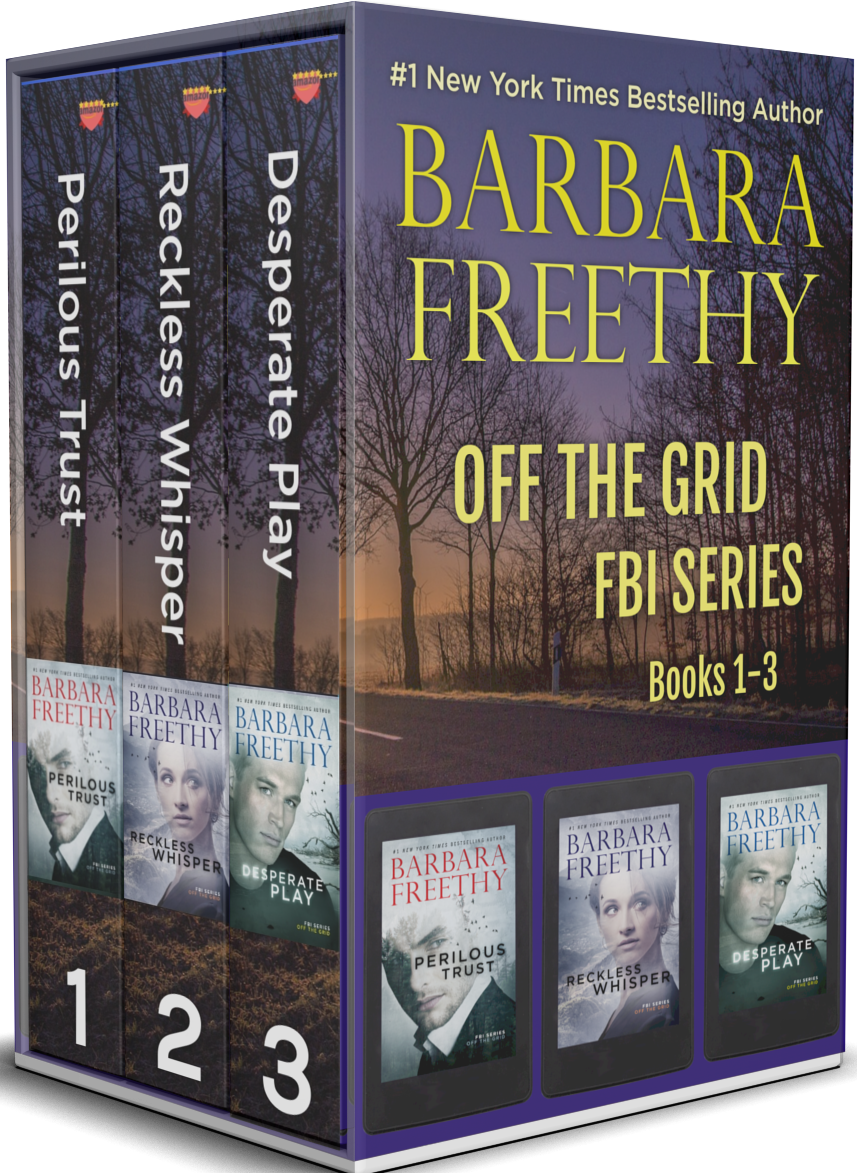 Description
Excerpt
Series Info
Get ready for a thrilling romantic ride with three complete romantic suspense novels from the FBI series by #1 NYT Author Barbara Freethy
PERILOUS TRUST
"A non-stop thriller that seamlessly melds jaw-dropping suspense with sizzling romance, and I was riveted from the first page to the last." USA Today HEA Blog
It was one dark night that brought Damon Wolfe and Sophie Parker together. They were two tortured souls, looking for escape, and they weren't supposed to see each other ever again…
Four years later, Sophie's FBI father, who is also Damon's mentor, is killed in a suspicious car crash after leaving Sophie a cryptic message to trust no one from the agency. When Damon shows up looking for her, she isn't sure if he's friend or enemy, but she knows he could easily rip apart what is left of her heart.
The last thing Damon wants is to get involved with Sophie again. It was hard enough to walk away the first time. But she's in trouble, her father's reputation is under attack, and the lives of his fellow agents are at stake if there's a traitor in their midst.
When someone starts shooting at them, they have no choice but to go on the run and off the grid. Everyone in their world becomes a suspect. They want to uncover the truth, but will it turn out to be the last thing they expect? Proving her father's innocence might just cost them their hearts…and their lives…
RECKLESS WHISPER

"This story has so many twists and turns that I read it in one sitting...a must read for everyone, I don't want to ruin anything, so I will just say...WOW" Booklovers Anonymous Blog
FBI Special Agent Bree Adams has a personal secret, something she has managed to keep hidden for the past ten years-at least she always thought so… But a chance encounter on a train, and whispered words of chilling consequence change everything. Is the truth about to come out or is someone playing with her mind and her life?
Nathan Bishop knew Bree when she was a street kid like him. Their dark past once put him in her debt, and he had to pay up. The last thing he wants to do is help her again. He has a new life now—a life he could lose with one wrong move. But the beautiful Bree is desperate—how can he walk away?
To get to the truth, protect innocent lives and their own, they'll have to fight their way through the past, as danger stalks their every move, and heartbreaking choices must be made.
DESPERATE PLAY 

"Words cannot explain how phenomenal this book was. The characters are so believable and relatable. The twists and turns keep you on the edge of your seat and flying through the pages. This is one book you should be desperate to read." Caroline

Special Agent Wyatt Tanner has always worked undercover. He thrives in the dark of the night. He survives by turning himself into someone else. But living so long in the shadows can make a man forget who he really is. When people start dying, when he finds blood on his own hands, he questions the choices he has made, the people he is with. 

Can he find his way back to the light? Can he trust the beautiful woman who needs his help? Or does she also have a secret life? 

He'll have to make one desperate play to find out…

Don't miss this page-turning, heart-stopping romantic suspense collection by #1 New York Times Bestselling Author Barbara Freethy