Regular price
Sale price
$11.99 USD
Unit price
per
Sale
Sold out
How will I get my digital ebooks and audiobooks?

Digital products will be fulfilled by BookFunnel immediately upon purchase. Books can be read or listened to on any of your favorite devices. BookFunnel support is available to ensure you can access your product.
If a signed book is available to purchase, can I get it personalized?

Yes! Once you put the signed print book in your cart, fill out the text box on that page with your name and choice of personalization.
When will I receive print books?

Please allow 1-2 weeks for delivery of both signed and unsigned print books.
Can I purchase this product from another retailer?
View full details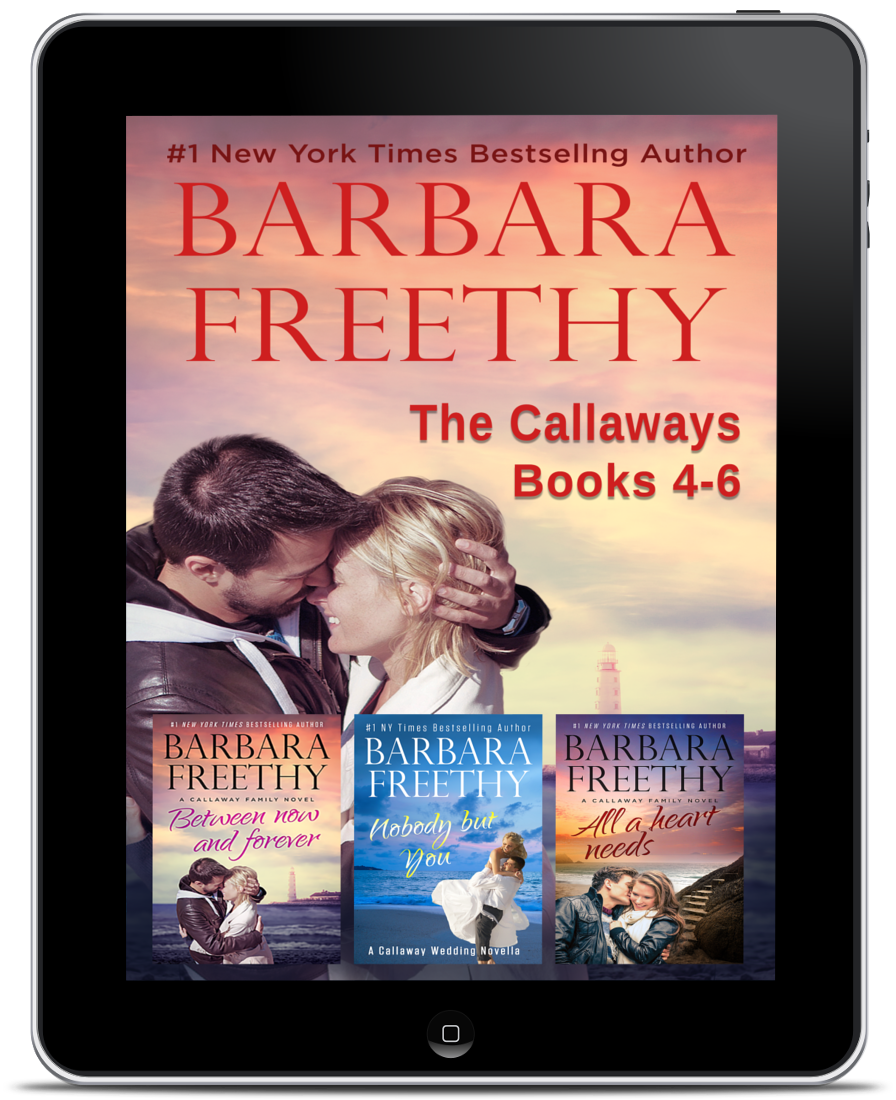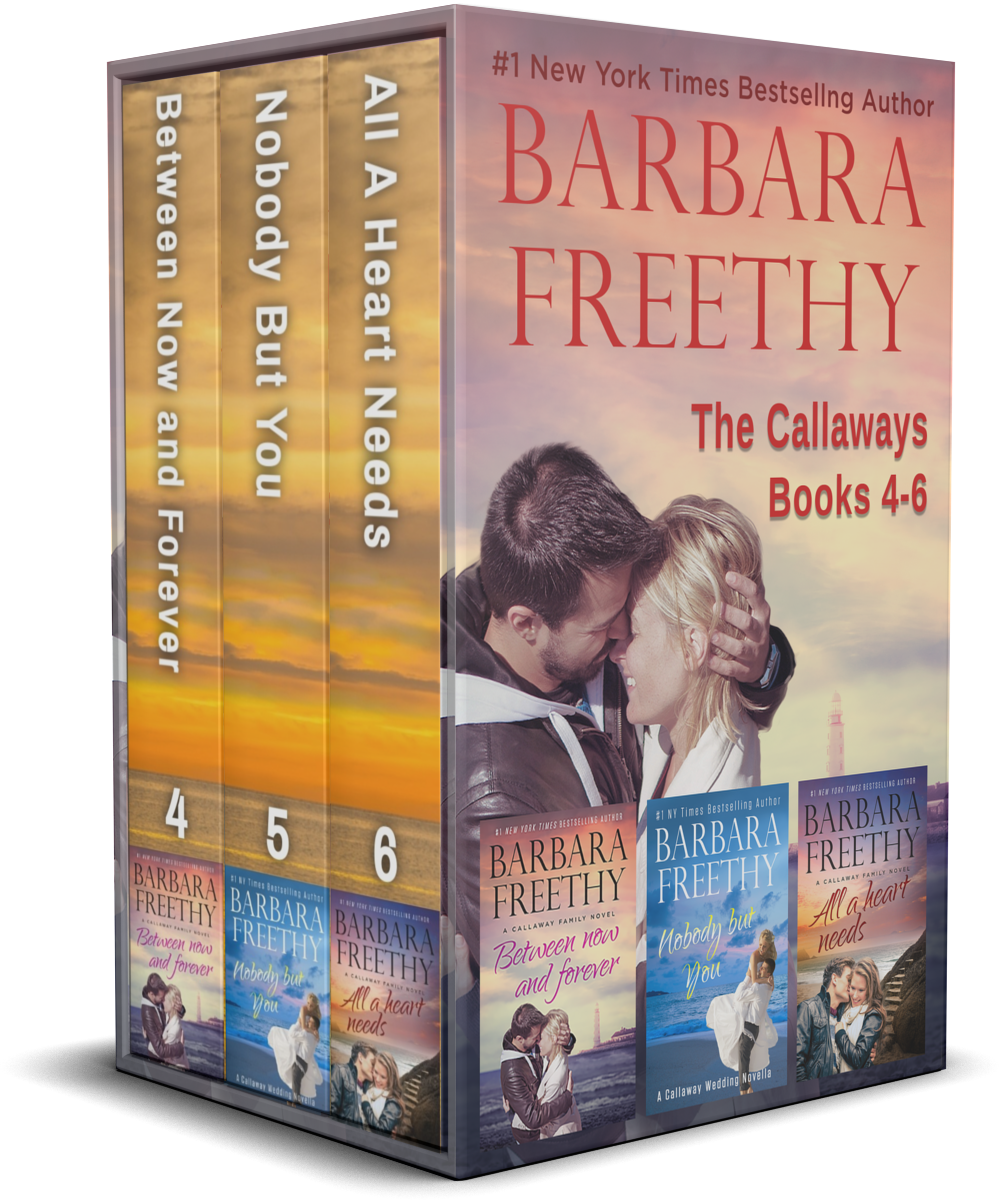 Description
Excerpt
Series Info
Special ebook bundle! The Callaways are back with more irresistible romance, family drama and intriguing suspense! Included in this special box set are two page-turning full-length novels and a stunning novella. 

BETWEEN NOW AND FOREVER
"Heartbreaking, tender and romantic. This one tugs on the heartstrings." Karen 
Nicole met Ryan when he was a handsome, cocky teenager with a desire to fly high above the clouds. Ryan encouraged Nicole to dream big and promised her a lifetime of happiness, but several years into their lives together, they were faced with obstacles bigger than either had ever imagined. Their love faltered. They lost their way and considered what had once been unthinkable—the end of their forever. 
But now fate throws them a curve, an event that forces them back together, that strips their emotions bare and is both terrifying and strangely unifying. For the first time in a long while they have to face each other, and not only talk but also listen, because their lives depend on it—not only their lives, but also the life of their six-year-old son. 
Secrets and lies frame a perilous journey to the truth that takes Nicole and Ryan to Angel's Bay, a place where miracles sometimes happen. But in order to get that miracle, Nicole and Ryan must work together and learn how to trust and love each other again. Only then will they be able to save their family and find their way to happily ever after.
"I loved, loved, loved this book. This author has a way of weaving a love story around chaos. This book takes readers through ups and downs and just when you think you have figured it out, you're thrown for a loop. I loved every second of it." Nicole – Goodreads
NOBODY BUT YOU
The Callaways are having a wedding! 

While Emma and her bridesmaids are toasting to Emma's future, Max and his brother, Spencer, make a stop on their way to the wedding and suddenly find themselves in a life or death situation. They go from being worried that they might be late to the ceremony to wondering if they'll make it at all. 

Spencer is used to his younger brother being the hero of the family. But now it's his turn. If he can convince a beautiful stranger with a dark past to put her fears aside and help him, together they can save the day for Emma and Max and perhaps find a future and a love for themselves. 

"Even though it's novella, NOBODY BUT YOU is packed full with drama and suspense that you don't want to pass up." Shari – Goodreads
ALL A HEART NEEDS
Sean Callaway never thought of himself as a hero, but now he's forced to face his most disturbing memories, not only to solve the riddle of the tragedy that ripped his life apart, but also to save the woman he loves…
The black sheep of the Callaway clan, Sean Callaway is the one sibling who refused to follow in the family tradition of firefighting. Instead, he lives his life in music. On the outside, he's a free-spirited rock star, but on the inside, Sean is haunted by the death of a childhood friend, a tragedy no one knows he witnessed. He's kept the secret for twenty years. But nothing stays hidden forever…

Jessica Schilling, a young widow, moved to San Francisco to reunite her six-year-old stepson with his long-lost identical twin brother, Brandon. She rents a house just around the corner from the Callaways, and while cleaning out the garage for the previous owner Jessica stumbles upon a very old secret—one that someone might just be willing to kill to keep.

"The story twists and turns to keep you reading until the very end. You do not want to put it down. Mystery, heartbreak, family and love all in the Callaway tradition. I recommend this book to everyone who enjoys reading." Charlene - Goodreads