Regular price
Sale price
$13.99 USD
Unit price
per
Sale
Sold out
How will I get my digital ebooks and audiobooks?

Digital products will be fulfilled by BookFunnel immediately upon purchase. Books can be read or listened to on any of your favorite devices. BookFunnel support is available to ensure you can access your product.
If a signed book is available to purchase, can I get it personalized?

Yes! Once you put the signed print book in your cart, fill out the text box on that page with your name and choice of personalization.
When will I receive print books?

Please allow 1-2 weeks for delivery of both signed and unsigned print books.
Can I purchase this product from another retailer?
View full details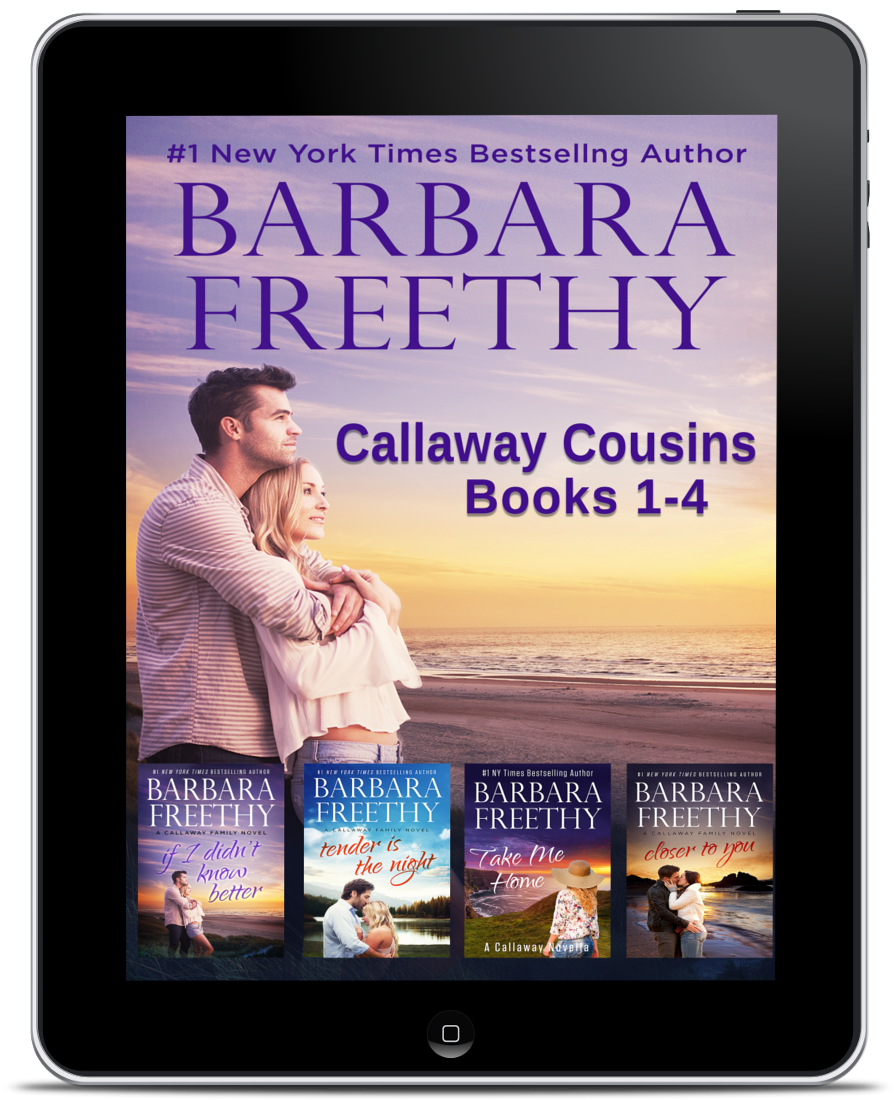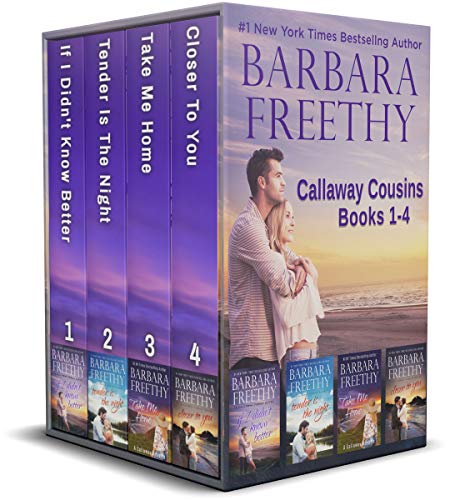 Description
Excerpt
Series Info
Meet the Callaway Cousins! More irresistible, heartwarming romance, poignant family drama, and intriguing suspense awaits in this special ebook collection featuring the first three complete novels and a bonus novella!
IF I DIDN'T KNOW BETTER
"Loved this book. Great start to the Callaway Cousins spinoff. A little suspense, a lot of romance and a great story make this a winner." Bette - Goodreads
Mia Callaway thought she had the perfect guy and the perfect job...until she didn't. After a run of bad luck, Mia is looking for an escape, so she agrees to go to Angel's Bay to clean out her aunt's house. She has no idea that the wounded soldier next door and his adorable, but also wounded, daughter are about to change her definition of perfect.
Add in stolen art, a family secret, and a town where miracles can happen, and Mia's escape turns out to be the greatest adventure of her life.
TENDER IS THE NIGHT
"Fabulously written characters with wit and humor." Terri - Goodreads
FBI agent Kate Callaway is on her way to San Francisco for a family wedding when her boss asks her to make a side trip to help an ex-agent with a cold case. 
Devin Scott wants FBI resources to find a serial arsonist, who is believed to be dead. Instead, he gets a newly minted agent who is a beautiful, idealistic and irritating distraction. He wants her to walk away, and she knows she should go…but she can't.
Suddenly, Kate is caught up in an intriguing mystery and the arms of a dangerously sexy man, whose obsession with truth and justice could put not only his life on the line but also hers.
TAKE ME HOME (Novella)
Meet Ian Callaway and catch up with two popular Callaway siblings, Emma and Burke, in this charming Callaway novella that will sweep you away to Ireland in a tale of romance and adventure!
When Eleanor Callaway asks three of her grandchildren to make a trip to her childhood home in Ireland, they have no idea her plan for each of them will make this a life-changing trip.
Emma, the spunky, never-say-quit, fire investigator is happily married but has been struggling to have a child. While many of her siblings are welcoming new babies, Emma is afraid that she may never be a mother, but a trip to the Emerald Isle shows her that family is not always about bloodlines.
Burke Callaway saved his cousin's life in a fire, but now he's dealing with a possible career-ending injury. All he's ever wanted to be is a firefighter, to follow in the steps of the men who came before him. But this oldest son, for whom responsibility weighs heavy, now has a chance to discover a new and more free-spirited side of himself.
Ian Callaway is a world-renowned scientist, but his high IQ has been isolating. This sexy, attractive genius meets his hero in Ireland—a mysterious professor who is about to send him off on an adventure that will both threaten and change his life forever.
CLOSER TO YOU
"CLOSER TO YOU has my favorite combination, an enchanting romance and a tantalizing mystery. And my most important requirement, characters that I care about." Valerie
Renowned scientist Ian Callaway believes in numbers, logic and reason. His life is an equation that always adds up, until his mentor asks him to do him a small favor. This favor sends him out of his lab and smack into Grace O'Malley, a free-spirited, beautiful elementary school teacher, who believes in love and miracles. 
He was only supposed to deliver a package from Grace's estranged father, but a sudden snowstorm, a gathering of world leaders, and unexpected danger changes everything.
Ian doesn't know if he wants love, but he could sure use a miracle. If he can find a way to believe in Grace and the impossible, he might just get both.