Regular price
Sale price
$11.99 USD
Unit price
per
Sale
Sold out
How will I get my digital ebooks and audiobooks?

Digital products will be fulfilled by BookFunnel immediately upon purchase. Books can be read or listened to on any of your favorite devices. BookFunnel support is available to ensure you can access your product.
If a signed book is available to purchase, can I get it personalized?

Yes! Once you put the signed print book in your cart, fill out the text box on that page with your name and choice of personalization.
When will I receive print books?

Please allow 1-2 weeks for delivery of both signed and unsigned print books.
Can I purchase this product from another retailer?
View full details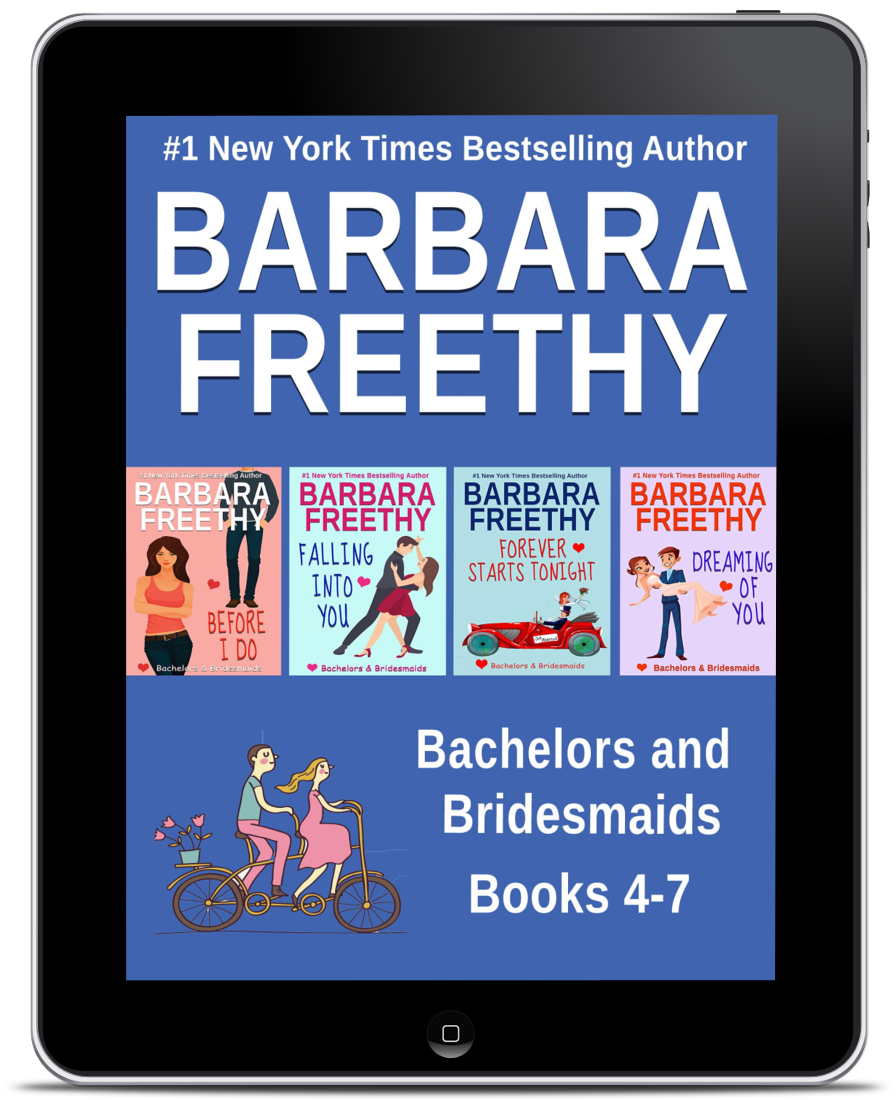 Description
Excerpt
Series Info
In this special ebook collection from #1 NYT Bestselling Author Barbara Freethy, you'll find the last four full-length novels in the Bachelors & Bridesmaids Series (Books 4-7). This heartwarming and charming series features a group of girlfriends who start out as bridesmaids and end up as brides! Falling in love has never been so much fun!
Before I Do (Book Four)
Nicholas Hunter is a sexy, rich entrepreneur, but he has two left feet, and to his dismay, they are getting in the way of his latest merger. His Argentinian contact insists Nick learn the tango—or the million dollar deal is off!
Nick storms into Isabella Martinez's dance studio and demands she be his teacher and his partner. Isabella reluctantly agrees. What she knows and Nick has yet to find out is that the tango is more than a dance. Like love, it invades the heart, the mind and the soul...
Falling Into You (Book Five)
Maggie Gordon grew up as an Army brat, moving every other year as the family followed her father around the world. Now what she wants most in the world is a real home, an address that doesn't change every year, the kind of security most people take for granted. She's very close to reaching her goals, and then a bad boy biker kisses all her plans right out of her head.
There's no way she's giving up her dreams for a man who is too charming for his own good—is there? Cole kisses like an outlaw, and she's looking for a good guy this time around.
Cole Hastings kissed the beautiful hotel clerk on a whim. The last thing he expected was sparks hot enough to build a lasting fire. He's been burned by love, and the last thing he's looking for is a woman who wants to settle down. He tried that once, and it didn't work. There's no way he's giving up his dreams for a woman who's passionate about gardening, baking and building a home—is there?
Forever Starts Tonight (Book Six)
Jessica Blake hadn't come all the way to Northern California with her young son to end up in the doghouse--literally! Still, being rescued by sinfully sexy firefighter Reed McAllister had its moments. She may have owed the handsome hero her gratitude, but she wasn't about to pay the debt with her heart.
Reed McAllister was used to risking his life to save people, but he vowed never to put his heart on the line. Yet one call to help a trapped damsel in distress was all it took for the confirmed bachelor to pull Jessica and her child under his protective wing. But who was going to rescue him from the woman who set his soul on fire?
Dreaming Of You (Book Seven)
Whoever said opposites attract must have been talking about Kate Marlow and Barrett Fox. Her life's work was bringing people together, and his was tearing them apart. The pretty wedding consultant and the sexy divorce lawyer should have hated each other on sight, and—well, they did. But from that first moment, when Cupid's arrow struck the unsuspecting Barrett—literally—there was something between them that just wouldn't go away.
There was no way it would work, of course. They both knew that. She was as romantic as they come, born to wear white lace and to carry a bouquet of roses with baby's breath, while he'd learned the hard way not to believe in love—or much of anything else.
It was impossible, completely impossible…wasn't it?